These are the unofficial
Fortnite 11.50 Patch Notes
! Epic hasn't been compiling detailed notes for every patch like they used to, so we're putting together a list of everything that changed in the new update. We have bug fix information, and will be posting whatever else has been added to the game. We will add the official patch notes if they are posted.
Patch Release Date & Time
The Fortnite 11.50 Patch was released on February 5th, 2020. You can expect an hour or two of downtime that starts at 4 AM ET (0900 UTC).
OFFICIAL 11.50 PATCH NOTES
The new event starts soon! Check back here later today for more details.
In non-competitive playlists, the Launch Pad has been unvaulted.
Implemented Unreal Engine's Chaos physics system, mentioned previously

here

.

At launch, our goal is to ensure that Fortnite still feels like what you would expect. We'll be closely monitoring your feedback from the in-game Feedback tool for any issues you may be experiencing.
To report issues via the in-game Feedback tool, select Feedback in the main menu and choose Bug. We encourage you to put "Physics" in the subject line and include a concise message in the body that accurately describes the issue(s) you're experiencing.
FORTNITE 11.50 PATCH BUG FIXES
Here are the expected bug fixes for the 11.50 patch. These were taken from the
Trello
that display all of the stuff that Epic is working on in terms of bugs.
Resolved an issue involving some players' completion of the "Search chests in a single match" Chaos Rising Challenge not being saved.
The "Earn Gold Scavenger Medals" Rippley vs. Sludge Overtime Challenge now tracks progress properly.
The Sidegrading feature is no longer present in competitive playlists. Its presence in these playlists was unintentional, as noted in our

v11.40 post

.
Resolved an issue involving new players on consoles having difficulty matchmaking after first linking their Epic account.
Addressed reports of iOS players activating their device's swipe-up feature when trying to press inventory buttons.
CREATIVE PATCH NOTES
ISLANDS

Fixed an issue with the underwater post-process effect on the Archipelago Island and the resulting loss of the effect when the island is loaded.

GAMEPLAY

Added a new value to the HUD Info Type option in My Island UI settings.

Round Status: Shows a representation of how many players are active or eliminated for each team and the current number of Rounds won by each team.

Only valid for games with 2 teams.

Fixed an issue where players were able to gain credit for completing challenges after leaving a game and returning to the hub.
Fixed an issue where players were unable to aim down sights when pressing the right mouse button on PC.
Fixed an issue where players were unable to shoot or swing their pickaxe after respawning in a Boxfight game.

CREATIVE TOOLS + PHONE

Fixed an issue where the Overview Map and Minimap could show corrupted textures on Android devices.

DEVICES

Added additional values to various options for the Round Settings device.

Wood Given Per Round: 15, 20.
Brick Given Per Round: 15, 20.
Metal Given Per Round: 15, 20.
Gold Given Per Round: 15, 20.
Wood Given to Winner of Round: 15, 20.
Brick Given to Winner of Round: 15, 20.
Metal Given to Winner of Round: 15, 20.
Gold Given to Winner of Round: 15, 20.

Fixed an issue where the Tracker Device could cause games to crash on multiple platforms.
Added missing tooltips and extra clarifications to some tooltips on various devices.
UNOFFICIAL PATCH NOTES
Here's where we will be detailing all of the things that have been added to the game that weren't covered by Epic.
If you're looking for leaked cosmetics, we will have a full look at them right

here

.
Love & War Challenges Coming Soon
A new set of challenges for Valentine's Day are coming out soon called Love & War. You'll be able to earn a bunch of new cosmetics by completing these challenges in the new Search & Destroy Creative Map. Check out everything we know about them in our
Love & War Challenges Guide
.
New Style for Bullseye
If you are a
Bullseye skin
owner, you were given a new Valentine's Day style!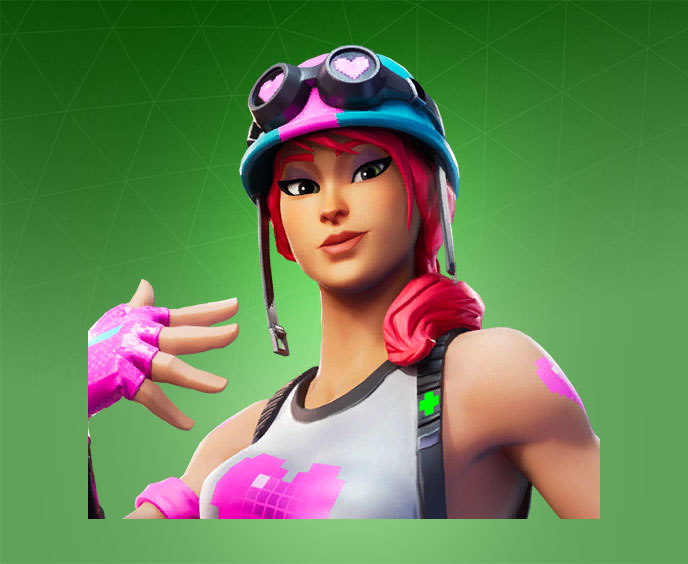 Harvesting Weak Points Might Be Bugged
I've seen multiple people show examples of weak points when harvesting are not always registering correctly.
Launch Pads Have Returned (Not in Competitive)!
A big complaint about Chapter 2: Season 1 has been the lack of mobility options. It looks like Epic has heard you and has added Launch Pads back into the game.